Faith • Service • Excellence
LCA Senior Kathryn Sandford Promoted to Cadet Lieutenant Colonel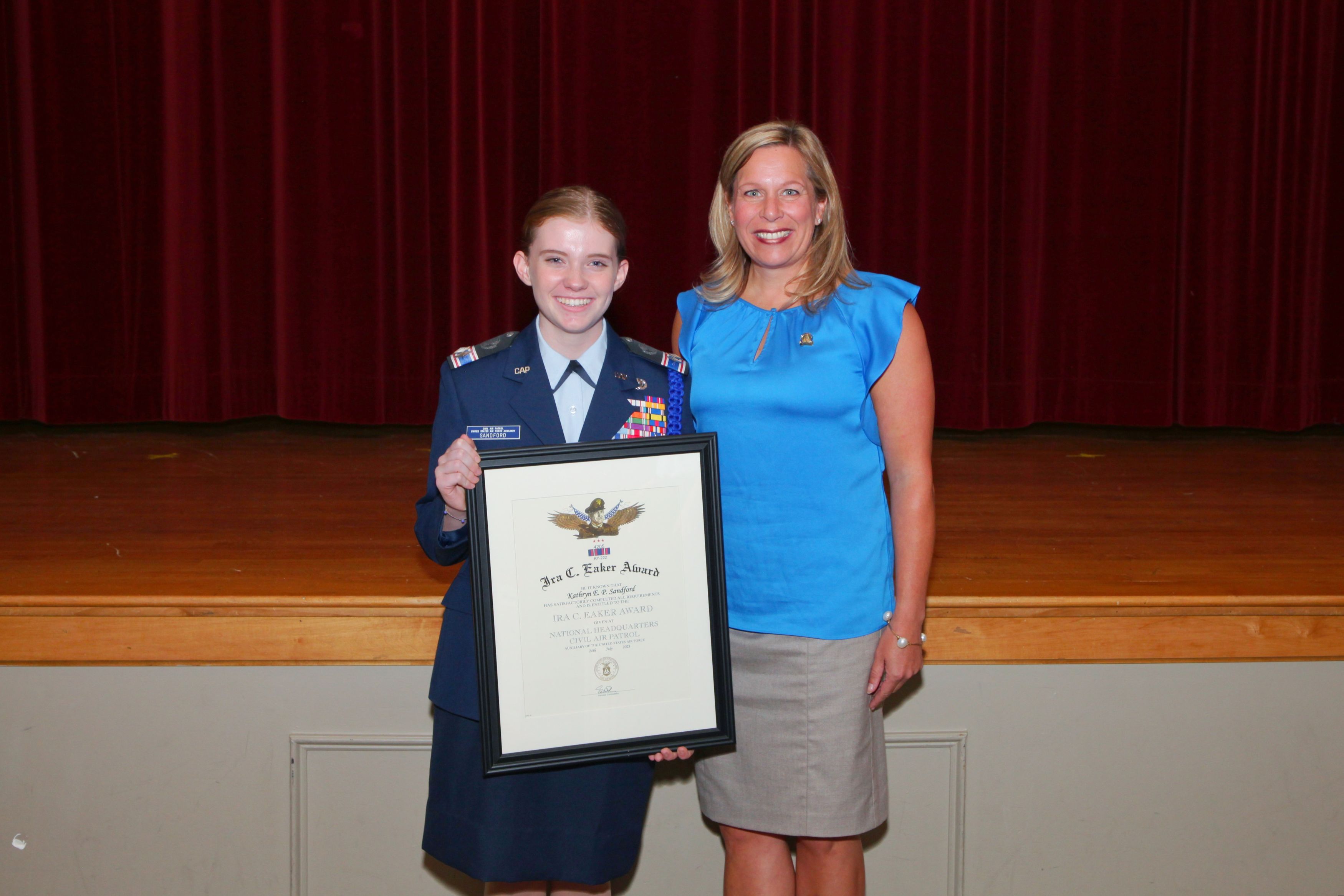 Congratulations to LCA senior, Kathryn Sandford, a Cadet Major in the Kentucky Wing of the Civil Air Patrol (CAP), who was promoted to Cadet Lieutenant Colonel last Thursday evening in a ceremony at the LCA Rose Campus Chapel. This rank marks the completion of the cadet program and allows Cadet Sandford to test for the exceedingly rare rank of Cadet Colonel and accompanying Spaatz award. With this promotion to Cadet Lieutenant Colonel Sandford is the only female high school cadet in the Commonwealth of Kentucky to hold this distinction.
Additionally, Sandford received the Eaker Award, which marks the completion of Phase IV of the CAP Cadet Program, recognizing sustained excellence in all four areas of cadet life: leadership, aerospace, fitness, and character. Fewer than two percent of cadets receive this award and the accompanying promotion to Cadet Lieutenant Colonel.
The award is named in honor of Army Air Force Lieutenant General Ira Eaker who commanded U.S. Air Force operations during WWII. He later transferred to the new U.S. Air Force when it became a separate branch of service in 1947 and retired the following year. Almost 40 years after his retirement, Congress passed special legislation awarding four-star status in the U.S. Air Force to
General Eaker. Kentucky State Senator Amanda Bledsoe presented the award certificate to Kathryn.
"Kathryn embodies excellence in every sense of the word," said LCA High School Principal Dr. Cassondra Koett. "She is an outstanding role model to her peers, leads with integrity and grit, and lives her life with a steadfast commitment to her values and faith."
In addition to learning search and rescue techniques, aerospace education principles and customs and courtesies of the Air Force, participation in the Civil Air Patrol Cadet Program also provides an opportunity for young people to learn about leadership and gives them an opportunity to practice those skills.
Sandford joined the Van Meter Cadet Squadron located in Lexington in February 2019. Since then, she has progressed from the rank of Cadet Airman, learning many leadership lessons along the way and currently serves as the Cadet Commander of the squadron. Kathryn's additional accomplishments in the Civil Air Patrol include:
Summer 2022 - Attended the Medial Orientation Training School in Nacogdoches, TX
Spring 2023 - Selected as one of the Cadet Delegates from the State of KY to speak with legislators during National Legislative Day activities in Washington, D.C.
Summer 2023 - Selected as 1 of 10 cadets nationwide to travel to Canada for the International Air Cadet Exchange
Spring 2024 - Has been selected to lead the KY Delegation during National Legislative Day activities in Washington, D.C.

"Kathryn is the type of student any teacher would love to have on their class roster," said LCA Assistant High School Principal and Athletics Chaplain Keith Galloway. "She is thoughtful, kind, and focused in class. On a field trip or leadership trip she is engaged, curious, and perceptive. In addition, she is diligent and self-disciplined at completing homework and assignments with excellence and without delay. Lastly, she is a motivated Christ-like learner, leader, and volunteer who has a heart for serving others."
For more information about the Kentucky Wing of the Civil Air Patrol, please click here.
View more photos from the ceremony here.