Faith • Service • Excellence
Admissions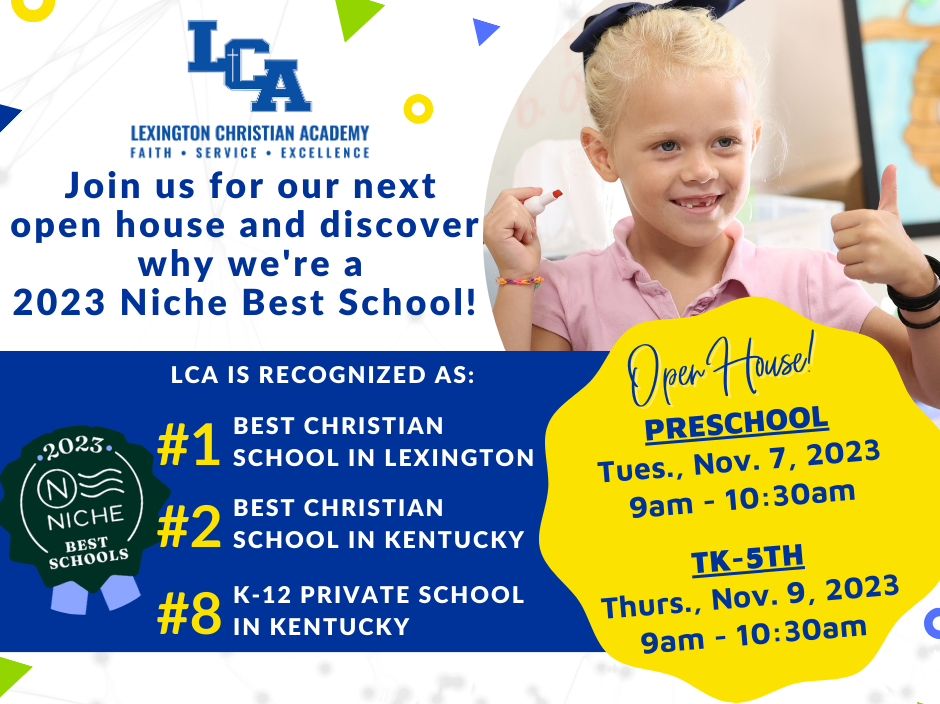 If you have a preschooler and elementary student, please register for the TK-5th Open House on November 9th.

---
get ready for 2024-25 now!
Thank you for your interest in Lexington Christian Academy. We are excited to begin accepting online applications for the 2024-25 school year on October 1st. Check out the various opportunities below to connect with us and to learn more about our school.
connect with us
schedule a tour
We invite you to schedule a time to visit and see why LCA is rated the #1 Christian school in the Lexington area. During your visit, you will tour the campuses, explore our classrooms, and learn about extra-curricular programs. We will be offering tours on Tuesdays and Thursdays and will begin on September 5, 2023. Schedule a personal tour here.
If you have any questions, email Melanie Steier, Asst. Director of Admissions, at msteier@lexingtonchristian.org.
---
join us for the eagle experience (6th-12th Grades)
6th - 12th grade students and their parent(s) are invited to join us for the Eagle Experience so they can see our school up close. Students will attend class with an LCA Student Ambassador, and parents will meet with our Admissions Team. Students and parents will have the opportunity to attend chapel and tour the campus. See available dates and schedule your Eagle Experience here.
---

Request more information
Click here to request more information. A member of our admissions team will send you info about LCA's curriculum, athletics and arts programs, and clubs and activities.
---
Connect With Us on Social Media
Our social media pages are a great way to see what's happening at LCA. Updates are made frequently, and you will get a glimpse into all that is going on at LCA!