Faith • Service • Excellence
Preschool

First educational experiences create the foundation for everything that follows. We teach our preschoolers the joy of learning in a fun, yet directed, school environment. Our goal is to emphasize creativity and individuality as well as group play and foundational learning.
A balance of structured and independent activities support children as they learn to focus their energy, make decisions, develop new skills and form friendships. Interaction with others is a big part of learning. We help our students understand how to work together, take direction and explore the world with their senses.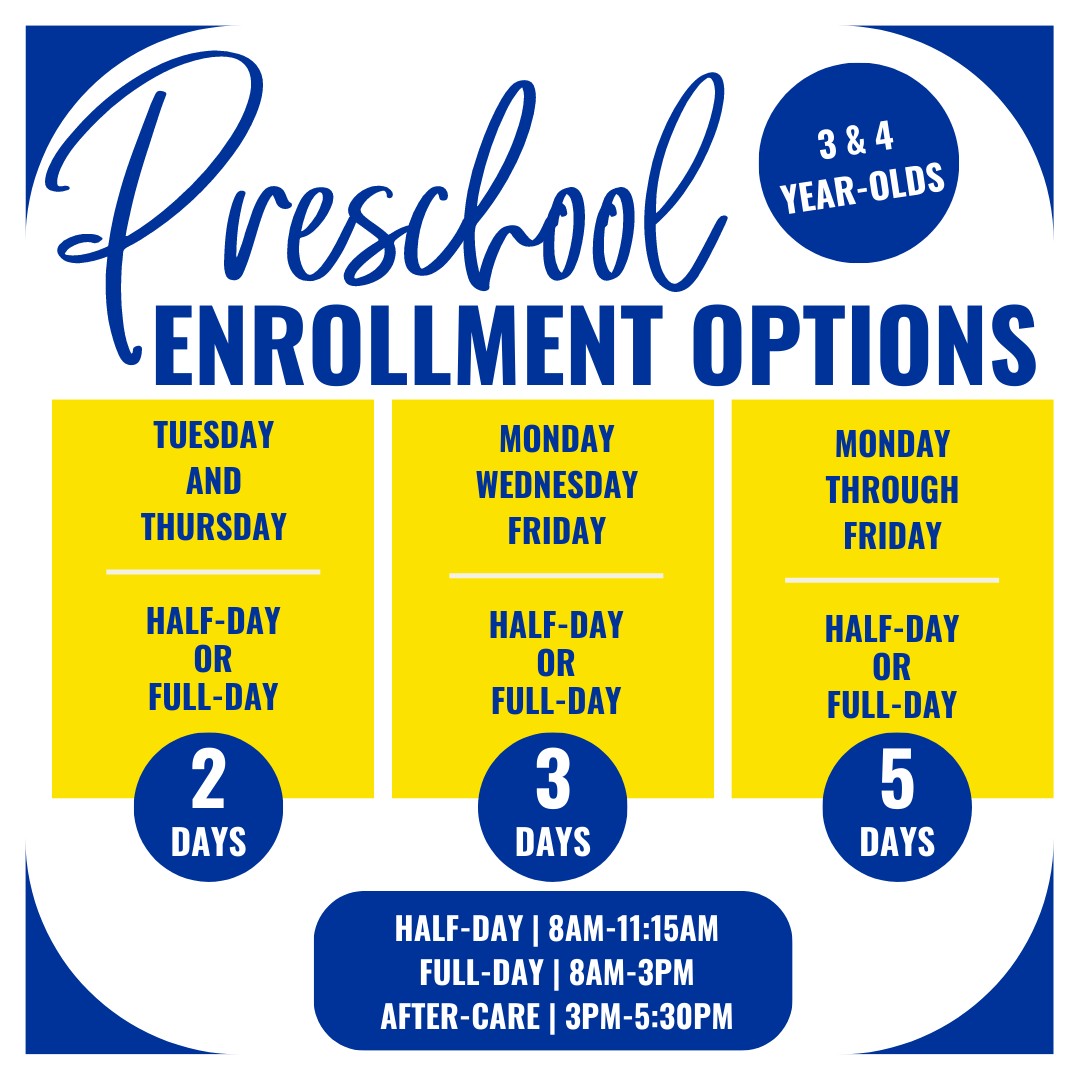 Your preschool student will enjoy:
Small Class Sizes: Students receive individual attention.
Six Enrichment Classes: Art, Library, Music, PE, Spanish and Technology/STEAM
Enrichment Opportunities: Book Fair; Field Day; Field Trips; Holiday Celebrations; and Mission & Outreach Programs
Family Volunteer Opportunities: Classroom Helpers; Donuts with Dads & Muffins with Moms; Family Ambassador Network (FAN); Field Trip Chaperones; Holiday Celebrations; Parents in Prayer; and Parent Teacher Fellowship (PTF)
We are convinced that above all else children should know and understand God's love at an early age. We teach students to delight in God's Word and his Truth. Daily, the children will pray and enjoy a Bible lesson. Weekly, the children will attend chapel – one especially geared for 3 and 4 year-olds.
eligibility requirements
Student must be potty trained in order to be eligible for enrollment.
3 Year-Old Program: Student must be 3 by August 1st in order to be eligible to enroll.
4 Year-Old Program: Student must be 4 by August 1st in order to be eligible to enroll.