Faith • Service • Excellence
2022 LCA Athletics Hall of Fame Induction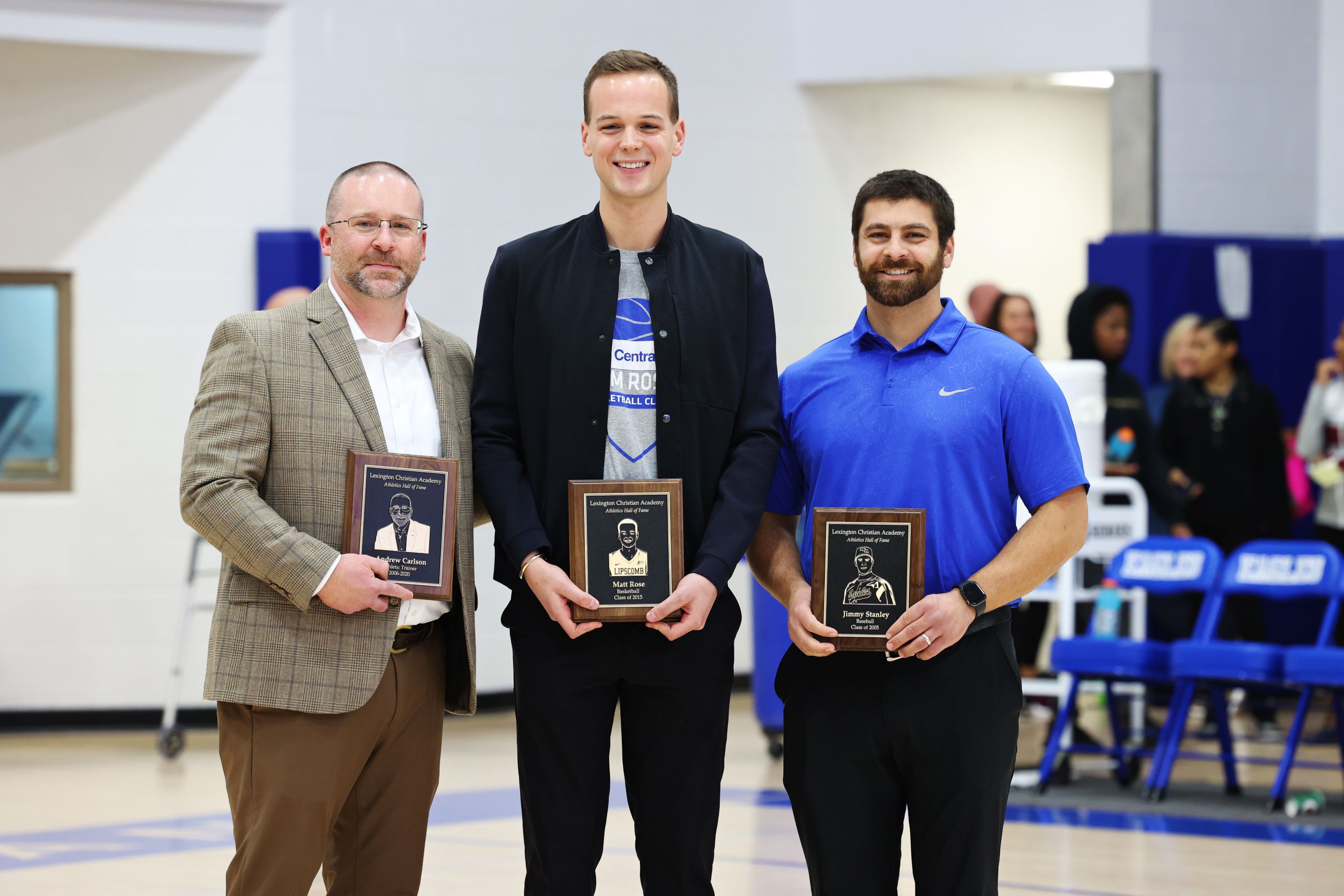 Congratulations to Andrew Carlson, Matt Rose, and Jimmy Stanley, who were inducted into the LCA Athletics Hall of Fame on Tuesday, December 6, 2022.
---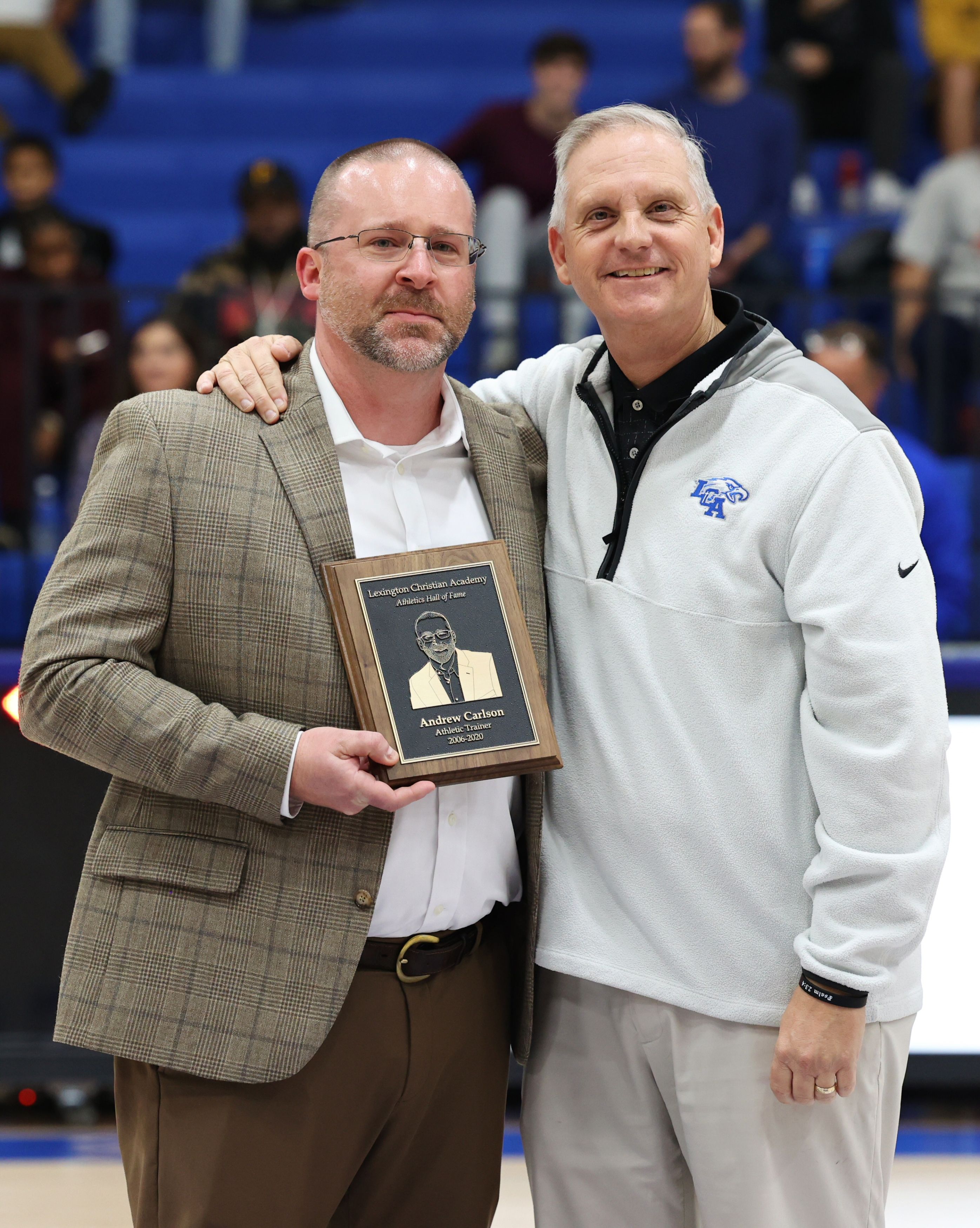 Andrew Carlson was an LCA pioneer. He worked for LCA Athletics for 15 years as the school's first-ever athletic trainer. Beginning in 2006, he started what would become the gold standard of health care provided by a high school to its student-athletes.
As a testament to that fact, in 2016 LCA became the first school in Kentucky to earn a "safe school" certifcation from the National Athletic Trainers' Association due to his leadership.
During his time at LCA, he was, and continues to be, a tremendous ambassador and supporter of the school, LCA Athletics, and our mission. He poured into hundreds of LCA student-athletes through the years. He not only helped them heal physically, but also had a great impact on their faith walk, as well.
Director of Athletics Terry Johnson said of Andrew, "He is one of the finest people I have had the opportunity to work with. Not only was he one of the best sports medicine experts in the state, he cared deeply about our student-athletes as people, is a man of deep faith and built our athletic training program into one of the best in the state."
He is now the Director of Business Development and Sports Medicine for Bluegrass Orthopaedics and still volunteers his time at LCA in various ways.
---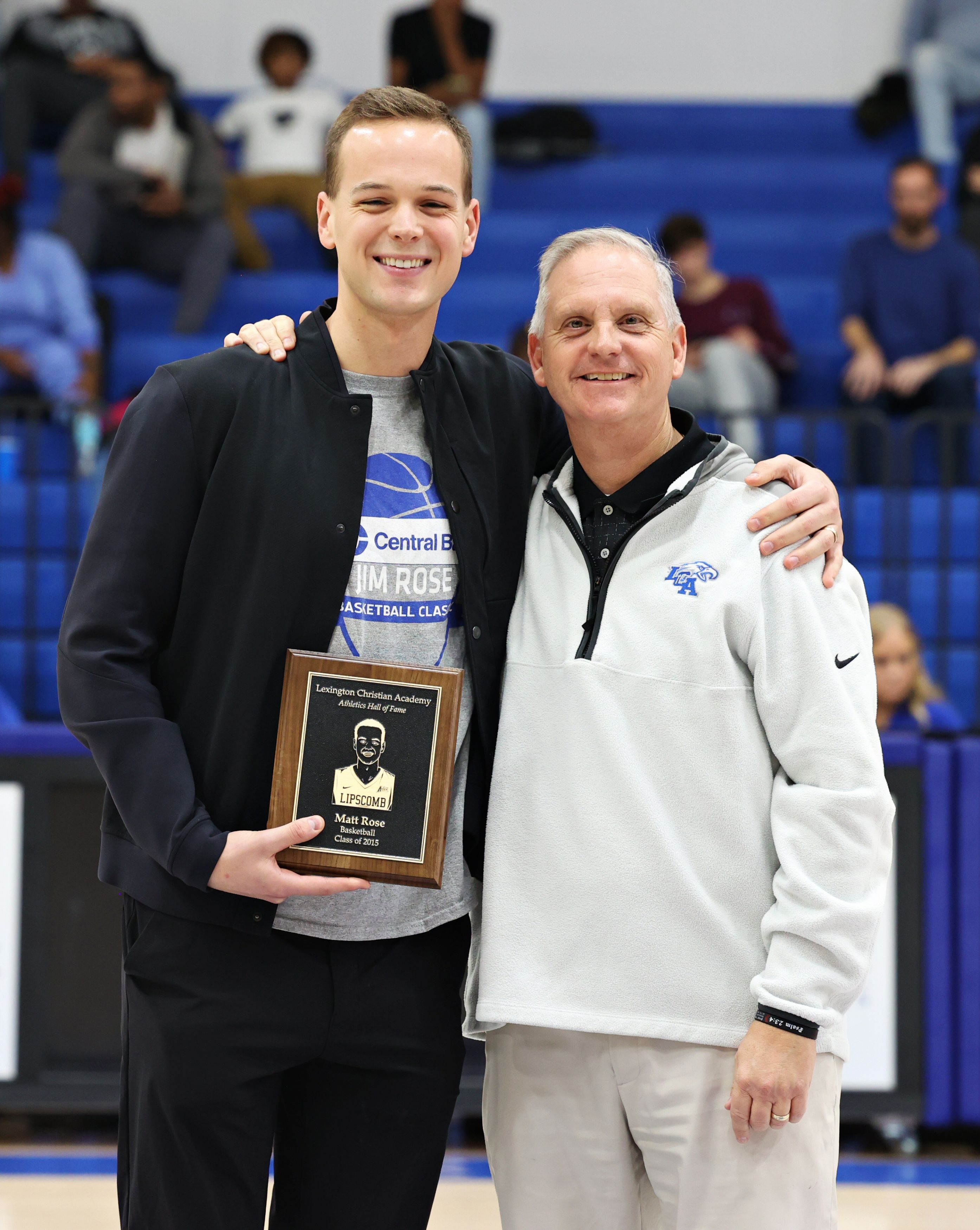 Matt Rose was one of the best basketball players in school history. A 2015 graduate, he was known for his outside shooting, rebounding and driving ability. He became one of the best players in the state during his time at LCA.
During his high school career, Matt finished as LCA's third leading scorer with 1,506 points. His senior year he averaged 22 points and nine rebounds, earning him an All-State Selection and a spot as a finalist for Kentucky's prestigious Mr. Basketball Award. He was a three-year team captain, was selected to the Kentucky-Indiana All-Star Team as a junior and senior and was a two-time All 11th Region Selection.
His head coach Nate Valentine said of Matt, "He personifies everything a coach desires in a student-athlete. His career speaks for itself, yet Matt's impact on Lexington Christian Academy reaches much farther than the basketball court. I have always admired his work ethic and competitive spirit - all while remaining strongly committed to his faith. Congratulations to Matt and his family on this outstanding honor."
After LCA, he attended Samford for one season and Lipscomb University for two seasons. During those three seasons he was named to the Southern Conference All-Freshman Team and was a key player on 2018 Lipscomb Conference Championship team that went to the NCAA Tournament. He scored nearly 800 points and grabbed more than 300 rebounds for his collegiate career.
He is now back in Lexington and has begun a successful career in the financial world and is married to fellow LCA graduate, Caroline Boone.
---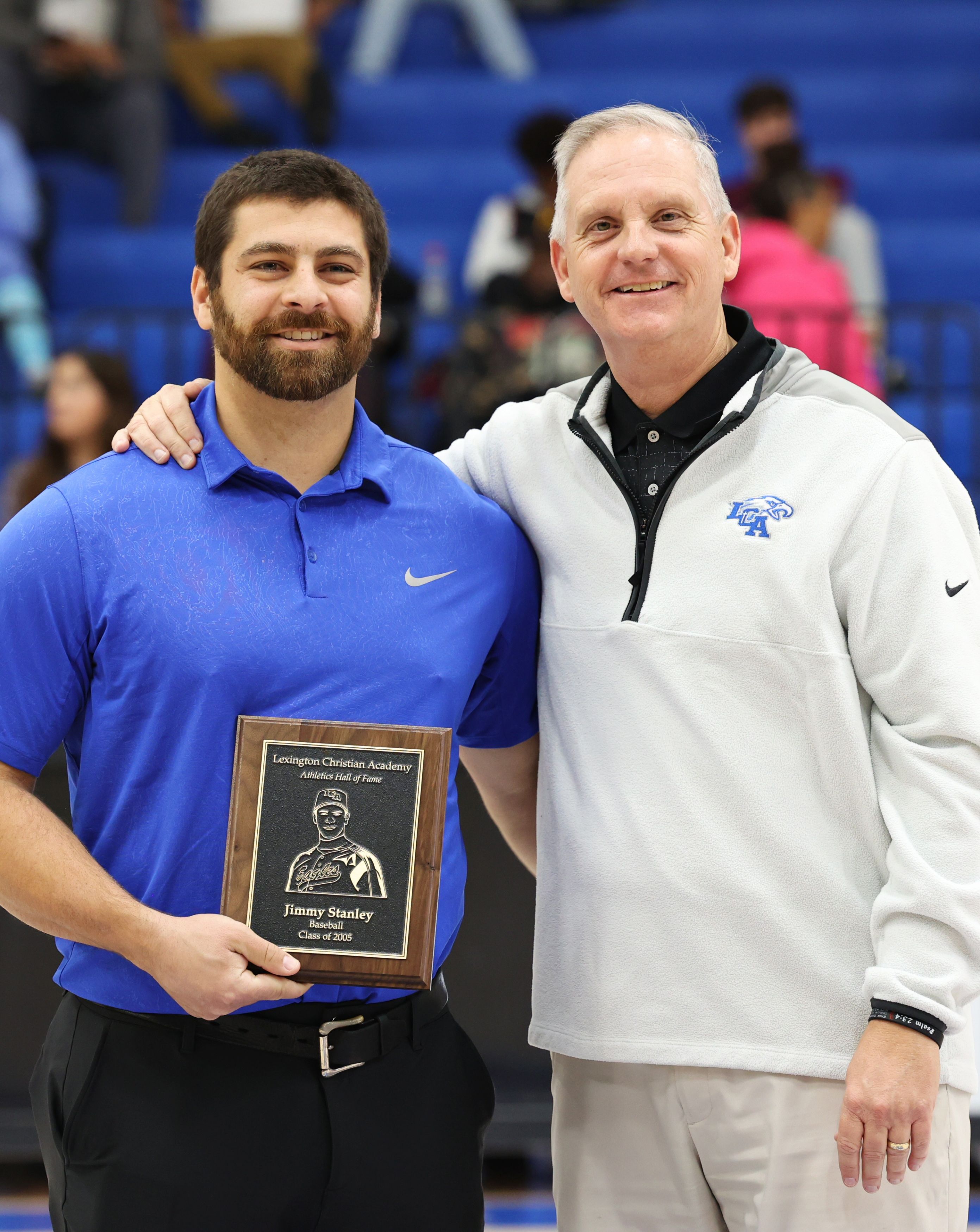 Jimmy Stanley played a pivotal role in the success of the LCA Baseball program, including three 11th Region Championships and the 2005 State Championship, his senior year.
A three-year varsity starter, he went 24-6 with a 2.02 ERA on the mound, while also being a career .286 hitter as an infielder. His senior year, he posted an 11-1 record with a 1.32 ERA, while striking out 73 batters in 74 innings.
During the Eagles' run to the 2005 State Championship, Stanley pitched nine innings against Madison Central in the regional championship game and threw a three-hit shutout of Christian County in the state championship game.
Throughout his time at LCA, Jimmy was a leader on and off the field. Coach Galloway said of him, "Jimmy was constantly aware of his attitude and the team's attitude, and he did his best to make sure everyone's experience and attitude improved whether we were conditioning in the off-season, practicing in the cold months of February and March, or playing in a hot, high-pressured game in May and June. "
Following graduation, he went on to play at Marshall University before transferring to Belmont University. After a successful college career, he went on to play two seasons of professional baseball.
He is now a successful businessman in Lexington. He and his wife, Melissa, have three young children, one of whom attends LCA.