Faith • Service • Excellence
Interview with LCA Football Coach Doug Charles
Cory Bosemer with Football of Kentucky DBA interviewed LCA Head Football Coach Doug Charles after the loss to Beechwood in the KHSAA 2A State Championship. Football photos are courtesy of Trever White.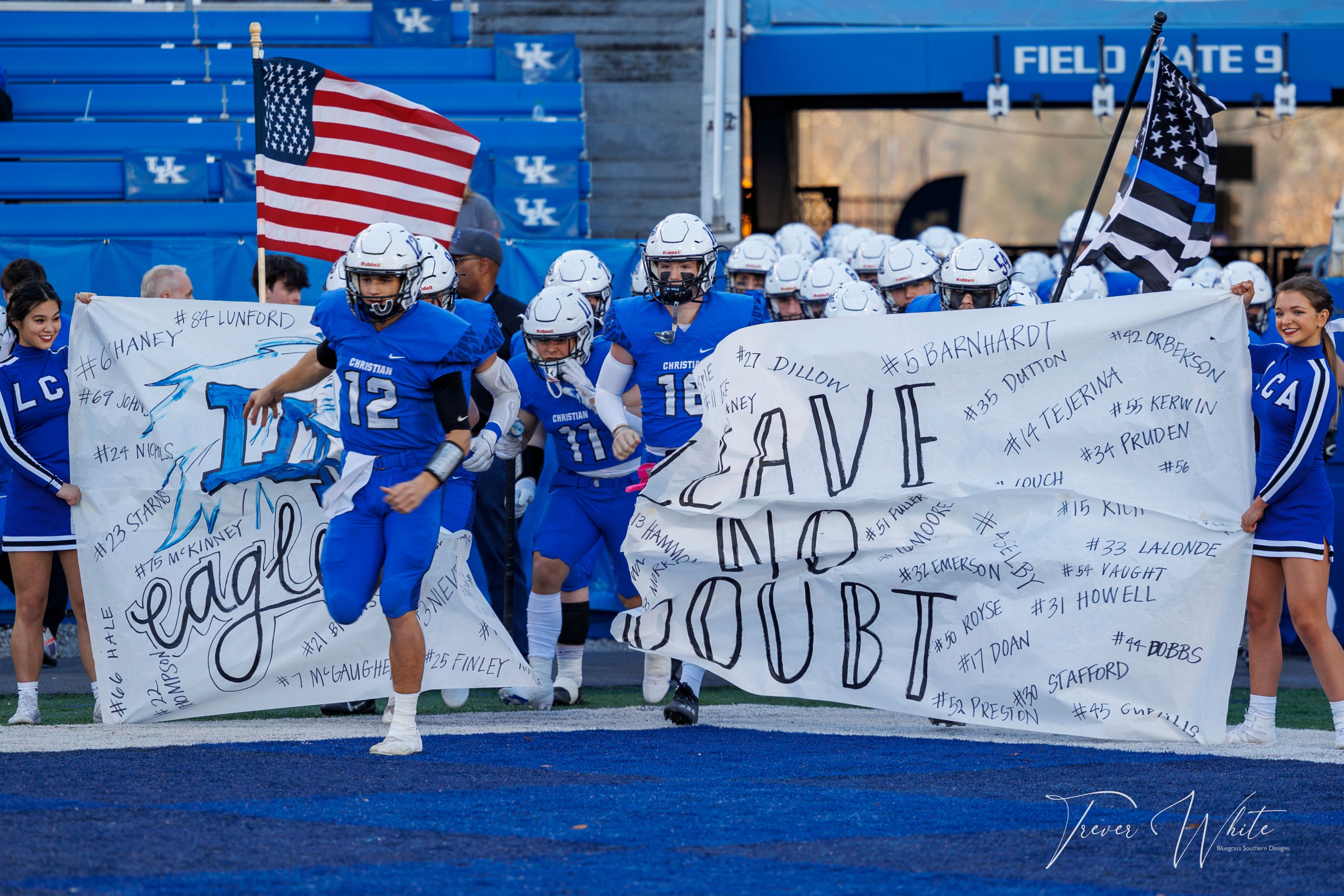 Q. Only three points has stood between you and back to back state titles, what do you tell your guys to help them through?
A. Certainly another tough loss for our players and staff against a great Beechwood team. I told our players and staff that I love them and am proud of the way they represented our program and school. We had a magical year. We talk a lot about family, brotherhood, our "Audience of One" theme, the middle "C" (Christian), and it's days like today that we must choose to rely on our character, faith and relationships to not allow this setback to define us or our football team. I expressed that it's easy to celebrate the wins, but it requires toughness, humility and resolve to accept the results of a loss. If indeed we believe in our culture and ourselves, we will choose to acknowledge and turn our focus to the positives and the fact that we've won 35 games the last three years and achieved the highest RPI rating all three years in the state all classes having played and defeated some really good opponents. Two state championship appearances and several kids moving on to play D1 football. A small private school with only 180 total high school boys is considered a top five football team in the state of Kentucky all classes. Of our five losses these last three years, four of them have been to state champions (Somerset 2019 (2 points) Belfry 2019 (16 points) Beechwood 2020 (1 point) & Beechwood 2021 (2 points). The only other loss was to Frederick Douglas in 2020. So, after some time passes, they will reflect on the many positive results they accomplished and relationships they have made. Finally, I told them that the crying was over and that we were going back to the school to celebrate our many blessings with our families and supporters which we did! The last thing I told them is that life is going to deal them loss, failure, disappointment and challenges. If they allow a loss of a football game to define them, then they best prepare for a tough road as it will pale in comparison to the difficulties that come with life. I told them that, 'The sun is coming up in the morning and God is still on the throne!'
Q. What was the biggest hurdle you and your team had to overcome this season ?
A. Our biggest hurdle was to guard against complacency because of our success. The other challenge was to try to balance sharing one football with a team loaded with really good skill players. We had seven to eight running backs and most would have started for most other programs. Another seven to eight receivers with little to no drop off in talent. Couple that with limited offensive snaps averaging about 45 per game and reps and touches become limited. A constant theme we communicated to our players was "Team First".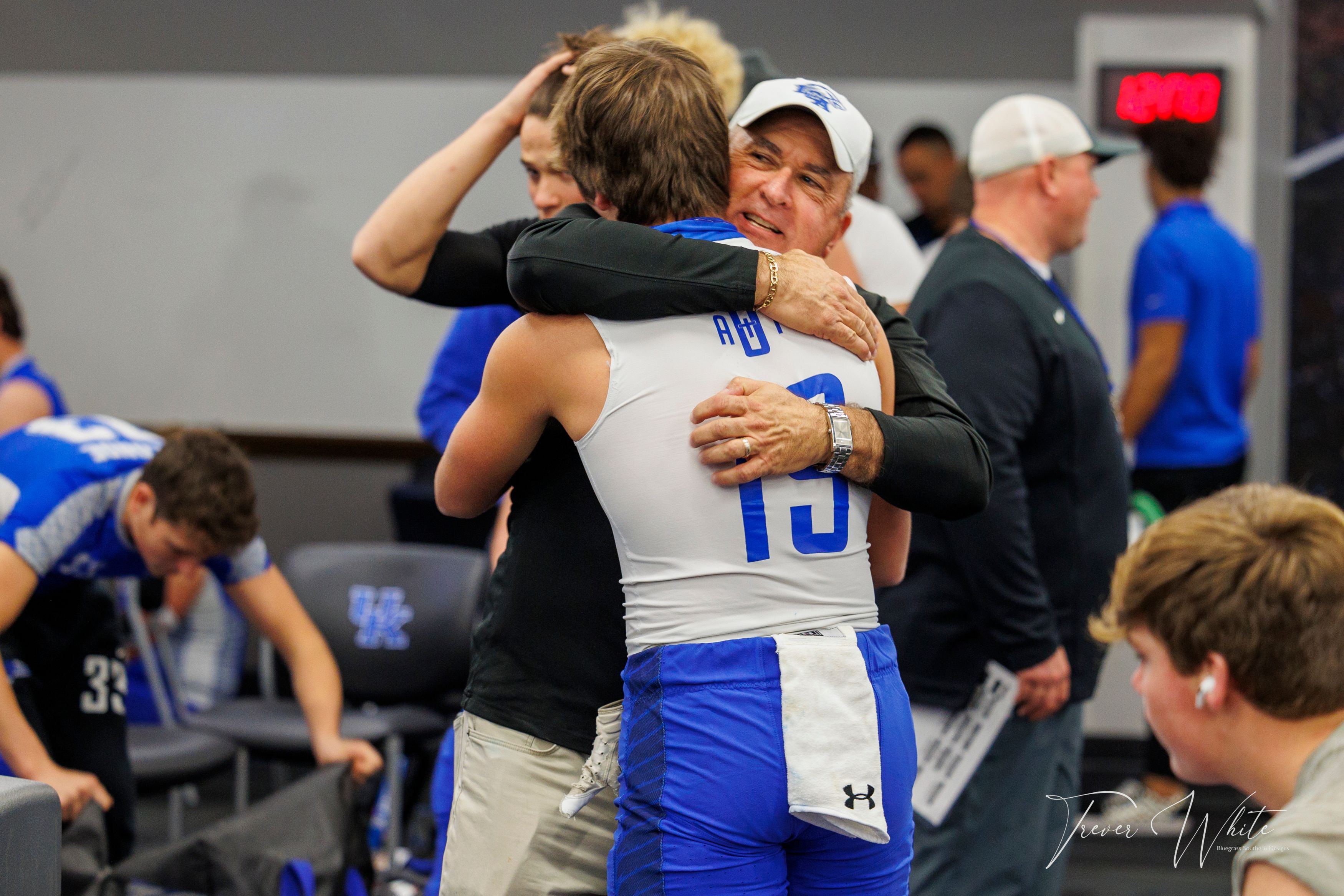 Q. How special is this group of seniors to you ?
A. All of these 16 guys in this senior class are like sons to me. I've been coaching many of them since they were in 5th grade. We experienced life together, and I'm really close with their parents as well. They are a special group, and we sure created a ton of great memories. Although they are moving on to the next chapters of their lives, I'll continue to be close to them. I'm so proud of the young men they have become both on and off the field. When you look around and see the many negative things from today's youth, you can hang around these guys one day and feel good about the next generation.
Q. Players like Brown, Morris,Nieves and several others have been utter workhorses, in more ways than one for you guys, what have they meant to you and your fellow coaches ?
A. It's really indescribable the impact these seniors/ workhorses have had on me and our staff. There are really too many to even mention individually. They've done everything we've ever asked them to do and picked each other up when one was injured or not playing particularly well. They set the winning culture in how they competed and approached practice and preparation. Really going to miss them.
Q. Think back to your first day as the head coach of LCA, what's the journey been like ?
A. Although it's only been three years since I've been the head coach, in some ways it seems like way more. I just completed my 41st consecutive year as a football coach with the majority of those being head coach of youth and middle school teams. I wasn't sure I was up to the job having never been a varsity head coach, but it was a much easier transition that I thought primarily because I have great assistant coaches and I've been associated with LCA for more than 20 years as a parent of students and as a youth coach there for 10 years.
Q. How many starters from both sides of the ball are you losing after this season ?
A. We will return five starters on defense and six starters on offense. We have a lot of really good young players. Our JV team went 8-0 and played all of our games against elite teams/programs. The young guys practicing with the older, experienced guys every day has really elevated their game. The future is very bright for LCA football.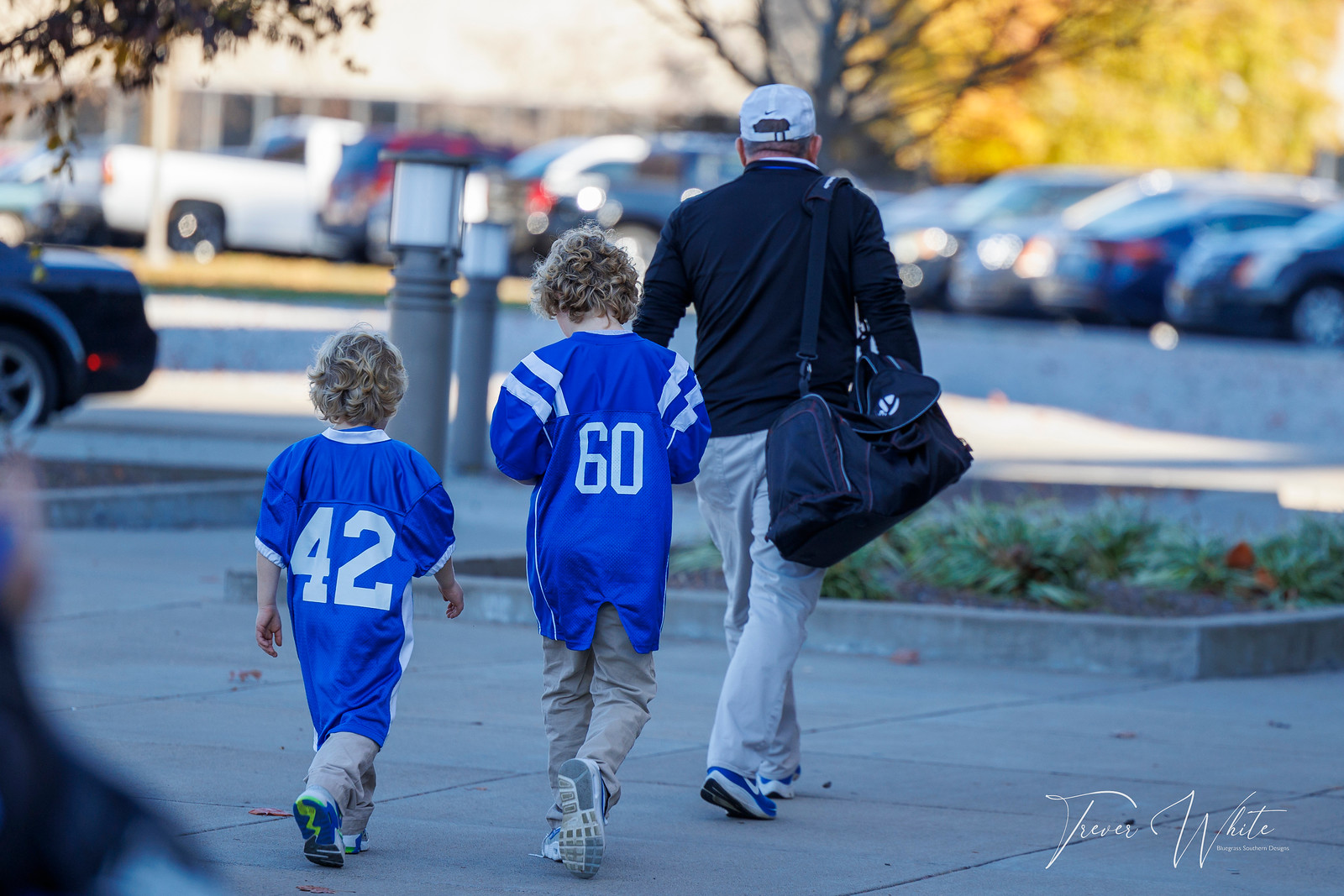 Q. What role has your wife played in the success of your coaching career ?
A. Obviously, the average person has no clue the time commitment it takes to put that product on field. We start in early June and go 6 months almost six months nearly every day. It requires a huge time commitment, and it's even more difficult for us because all 13 of my coaches are para-professionals with none of us working in the school. My wife is totally supportive as she and the other wives sacrifice a lot. I'm a real estate developer as my regular gig, but I do have flexibility in my schedule to do football tasks as well during daytime. An added challenge is that my wife and I are 60 years old and besides our seven biological children and eight grandchildren, we have three young boys ages 2, 5 and 9 years old that we've adopted. So, balancing our time to allow me to coach football is a sacrifice for all of our family, but they realize how important it is to me to continue volunteering my time to coach and impact lives.
Q. How long do you see yourself as the head coach of LCA?
A. As to the question of how long I plan to continue coaching, I get asked that a lot. The short answer is that it's way more than just coaching football to me. It's really a ministry and provides me a platform to hopefully continue making a difference in people's lives. Without the support and commitment of all my much younger assistant coaches, there is no way I could do this. I'm blessed to have a great group of guys who have been together a long time. We are like family, and it's a beautiful thing. I trust them and they trust me. They also know the game very well, and I give them pretty much full autonomy to coach their area. After all, what do good coaches want to do? They want to coach! So I run the program and most of the time stay out of their way with respect to the day-to-day football stuff. Provided my health holds up, I'd like to coach and stick around until my youngest kid graduates which will be another 15 years or so which would put me at 75 years old. My ego is that I don't necessarily need to always be the head coach, but I'd like to hang around and keep contributing as long as I feel I'm making a difference. Last year, I appointed our offensive coordinator Oakley Watkins, as Associate Head Coach, so I have a successor in place when needed that understands our culture, kids and program. I fully expect LCA football to be relevant for the foreseeable future!