Athletics Staff
And you yourself must be an example to them by doing good works of every kind. Let everything you do reflect the integrity and seriousness of your teaching. - Titus 2:7
Terry Johnson
Director of Athletics
Johnson currently serves as Director of Athletics at Lexington Christian Academy, accepting the position in July, 2014. He is responsible for all aspects of Athletics, overseeing the school's 23 programs, 650+ student-athletes, more than 90 coaches and staff. He also works with the principals as a school representative for the Kentucky High School Athletic Association.
Prior to this position, Terry served as Executive Director of the Bluegrass Sports Commission, the organization responsible for staging, recruiting and growing sports events in Central Kentucky. Prior to that, he served as Vice President of Sales and Marketing for the 2010 Alltech FEI World Equestrian Games. In that role, he was responsible for oversight of all marketing and revenue generation for the event. Generating more than $70 million in revenue, Terry's group was an integral part of the 2010 Games' success and impact on the Commonwealth of Kentucky.
Prior to the 2010 Games, Terry served as Executive Director of the Kentucky Sports Authority for two years, after being appointed by Governor Ernie Fletcher. Terry directed the efforts to attract sporting events of all types to the Commonwealth, including the 2008 Ryder Cup, The Dew Action Sports Tour and the 2010 World Equestrian Games. Prior to assuming the reigns of the Sports Authority, Johnson served as Deputy Commissioner of Tourism in the Fletcher Administration.
Terry spent 11 years in collegiate athletics, working for the BIG EAST Conference, the University of Kentucky, Morehead State University and corporately at HOST Communications.
A native of Kettering, Ohio, Johnson received his undergraduate degree from Bowling Green State University and Master's Degree from the University of Kentucky. He is married to the former Cindy Layne of Pikeville, KY. They reside in Lexington, attend Southland Christian Church and have two sons, Matthew (LCA '19) and Drew (LCA '21).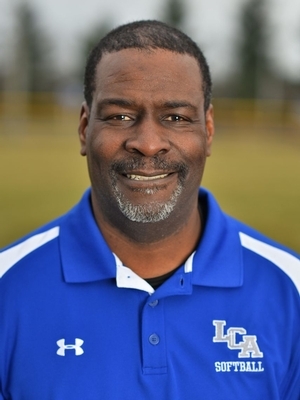 Kirby Willoughby
Assistant Athletic Director/ Varsity Volleyball Head Coach
Kirby graduated from Lexington Christian Academy in 2006. She was a dual sport athlete at LCA playing volleyball and basketball. She continued her volleyball career at Eastern Kentucky University. She received her undergraduate degree from the University of Kentucky in Kinesiology in 2010 and her master's degree in Exercise Physiology in 2012. She is a certified strength and conditioning specialist through the National Strength and Conditioning Association (NSCA). Kirby was a graduate assistant for the University of Kentucky strength and conditioning program during her time at UK working directly with volleyball, women's basketball, softball, cheer, women's tennis and gymnastics.
She served as an assistant volleyball coach for LCA after her volleyball career ended in college and rejoined the coaching staff in 2014.
She is married to McKenzie Willoughby, and they have two sons, Cooper and Reece.
Ted Hall
Assistant Athletic Director/Varsity Boys Basketball Head Coach
Ted Hall was named varsity head coach and Assistant AD at LCA on July 10, 2019. A longtime coach in Lexington, Hall has roamed high school sidelines for more than 20 years in Lexington. He served as an assistant coachat Lafayette beginning the 97-98 season for Donnie Adkins. The freshman class during Coach Hall's first season at Lafayette was the nucleus of the team that won the state title in 2000-01 season. He then coached alongside legendary coach Gene Kirk at Sayre after the 99-00 season, and would serve as coach for eight years before taking over upon Coach Kirk's retirement. Hall served as head coach at Sayre for five years.
He just finished his sixth year as an Eagle assistant under coaches Brad Carter (1 year) and Nate Valentine (5 years). As varsity assistant coach at LCA, Hall was tasked with practice and game preparation, scouting and player development. The last five years have been among LCA's greatest on the court and Coach Hall played a major role.
Hall also serves as an assistant athletic director in charge of facilities, concessions and special projects. Hall and his wife Stephanie have three sons-Austin ('18), Nathan and Tyler (both high school students at LCA).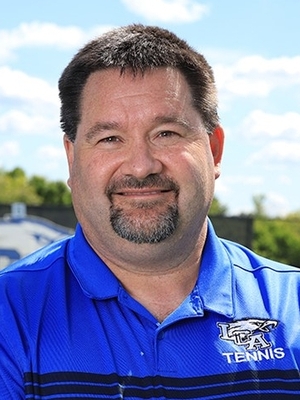 Sharon Wills
Athletic Administrative Assistant
Sharon and her family moved to Lexington thirteen years ago from Nashville, Tennessee. Sharon comes to us with an extensive background in office management and account relations from having worked for the one of the nation's largest insurance companies for seventeen years.
After having her third child she decided to work part-time to be able to spend more time with her kids. She has now decided to go back to full time work in order to be involved with LCA where her children attend school and are actively involved in athletics.
She and her husband Johnny have three children - sons Hunter (LCA '15) and Cooper (LCA '18) and daughter Marin (LCA '23).
Andrew Carlson
Athletic Trainer
Andrew, originally from Sturbridge, MA, has a Bachelor of Science from The Pennsylvania State University (2006) and a Master of Science from The University of Kentucky (2008). Andrew splits his time as the Director of Sports Medicine and Outreach for Bluegrass Orthopedics and as LCA's Head Athletic Trainer. When not working, Andrew enjoys spending time with his family, enjoying the outdoors and water sports. Although Andrew and his family reside just outside Lexington, his heart is at the beach! Andrew's passion for young athletes and sports medicine drives his career and looks forward to what the future brings for him and his family.
Cameron Deckett
Athletic Trainer
Cam Deckett has been on the athletic training staff at LCA since 2018. He is from Omaha, Nebraska. He graduated from Missouri State University in 2016 and 2018 with his Bachelors and Masters Degree in Athletic Training. At Missouri State, he met his wife, Rebekah, and they have been married since 2018. Before coming to LCA, Cam was the athletic trainer for the Drury University Wrestling and Cheerleading Teams from 2016-2018. Cam loves working at LCA because he not only has the ability to fulfill his passion of helping others pursue their goals, but he also gets to impact students daily and encourage them in their personal walks with Christ. He attends Lex City Church (right across the street), and in his free time enjoys exercising, doing outdoor activities, and photography. Currently Vacant
Strength and Conditioning Coordinator
Matt Ginter
Athletic Facilities Coordinator/ Varsity Baseball Assistant Coach
Coach Ginter began coaching at LCA in 2018. Before coming to LCA, Ginter was the head coach at George Roger Clark High School where he lead his team to four district titles and a state tournament appearance.
Prior to coaching, Ginter has a long playing history playing college baseball at Mississippi State University before being the a 22nd MLB draft pick in 1999. During his time at Mississippi State he played in the College World Series and made the USA Team. In 1999, Coach Ginter began his professional playing career, playing for the White Sox, Mets, Tigers and the Indians before retiring in 2010.
Currently, Coach Ginter resides in Lexington with his wife, Emily, and two children Claire and Cole.
Keith Galloway
Athletics Chaplain/Assistant High School Principal
Coach Galloway is entering his 23rd year at LCA and his third as our Athletics Chaplain. This will also be his tenth year serving as our high school Assistant Principal. Coach Galloway spent three seasons as our boys' basketball coach and nineteen seasons in the dugout and on the field as our head baseball coach. During his tenure our baseball teams were able to capture the 2005 State Championship and also win baseball titles for the All A Classic in 2009, 2010, 2012 and 2015. His biggest thrill is seeing student-athletes become committed Christian leaders! He enjoys leading Bible studies for our coaches and sharing devotionals with our teams and coaching staffs as well as planning events to help our entire athletics family grow closer to our Lord and Savior, Jesus Christ. Coach Galloway is married to Dana who is a nurse and an occupational therapist. They will be celebrating their 25th wedding anniversary on August 6th. They have two children—Macy and Chase; both are LCA graduates (2015 and 2017, respectively). The Galloways are members of Immanuel Baptist Church where Keith serves as a deacon and as a greeter. Coach Galloway is a native Kentuckian who played varsity baseball and basketball at Pendleton County high school. He earned a B. A. degree in physical education (K-12) with a health minor from the University of Kentucky and also received his Master's degree from Eastern Kentucky University.