Boys Golf
There are different kinds of service, but the same Lord. There are different kinds of working, but in all of them and in everyone it is the same God at work. - 1 Corinthians 12:5-6
The LCA Boys Golf program is one of the most accomplished athletics programs in LCA History! Led by multiple-winner KHSAA Coach of the Year, Eric Geldhof, the future looks bright for a program with a storied past.
►KHSAA State Champions- 2010, 2011, 2017
►All "A" State Champions- 2008, 2010, 2013, 2015, 2017, 2019
►All "A" State Runner Up- 2011
►23 golfers have gone on to play Division I golf
Coaching Staff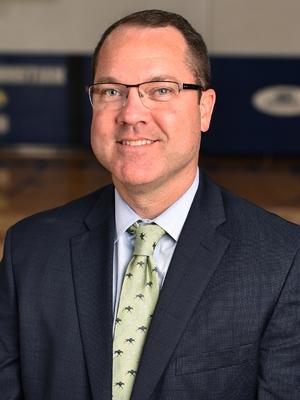 Eric Geldhof
Varsity Boys Golf Coach
Eric Geldhof, LCA's Director of Golf and Head Coach for the men's varsity golf team, joined the program as the men's golf coach in 2003. Geldhof began his coaching career at East Jessamine High School from 1998-2000 where he led the team to its first winning season in school history. After his time at East Jessamine, he focused on starting his own teaching academy (Geldhof Golf Academy), trained to be a PGA Professional, and instructed in the Department of Kinesiology at the University of Kentucky. In the last 14 years, Coach Geldhof has led the Eagles in becoming one of Kentucky's premier high school golf programs energizing the student body and creating an excellent reputation for golfers in the school.
During his tenure at LCA, the Eagles have captured eight regional championships, ten KHSAA State Championship appearances, and 12 All-A State Championships berths. Achieving the pinnacle of Kentucky high school golf, Eric's teams have captured 3 KHSAA State Championships, 6 All-A State Championships, 1 Runner-Up KHSAA State Championship, 2 All-A Runner-ups, and 2 Middle School State Championships. Geldhof has coached LCA to 68 team tournament wins, with 33 individual medalists. Eric was named the 2017 KHSAA Coach of the Year for the third time in as many years and named a finalist for the 2012 & 2019 NHSAA National Coach of the Year. Eric's priority is developing his players into quality and honorable young men. Geldhof consistently produces headline worthy student-athletes in the community, in the classroom, and on the golf course. In the classroom, the men's golf team has placed 69 players on the KHSAA All-State Academic Team with 27 other players named to the KHSAA Honorable Mention Team. All of his players are active in the Lexington community, volunteering their time at camps and helping host athletic department sponsored events for local children.
On the golf course, Geldhof has coached 23 Eagles to NCAA Division I golf scholarships during his career. His team members have been nominated for the sport's highest awards and include recipients of the Kentucky Mr. Golf Award, KGCA All-State winners, and the KHSAA Player of the Year Award.
His golf career includes playing various professional tour events and as a player for the Cadets at the United States Military Academy. Geldhof has served as a head golf professional and Director of Golf Instruction, and studied Plant and Animal Biology at The United States Military Academy at West Point. Eric and his wife Jennifer live in Lexington with their four children: Chris, Katelyn, Parker and Brady. Jennifer is a respected professional educator in the Fayette County Public Schools and his family attends Immanuel Baptist Church.
2020 Golf Schedules
Schedules can be found on the main school calendar here.
Junior high schedule available here.
---
2020 Golf Rosters
Varisty
Cameron Bassel - SR
Luke Barrett - SO
McKean Collins - SO
Grey Goff - SO
Jake Merryman - SO
Tanner Owens - SO
JV
AJ Bateholts - SR
Jacob Dixon - SR
Cade Smith - SR
Drew Ickes - SR
Trey Day - JR
Garrett Doan - JR
Jake Hajjar - FR
Luke Wood - 8TH
Junior High
Roster available here.